Send a gift to mom!

At Kosibox you can create your own surprise, delivered directly to mum throughout Norway.

Super gift experience!

You can easily customize the gift and add a greeting. A great
experience!

Fast delivery

The gift is delivered to the door the same day in greater Oslo, the next day in other large cities (must be ordered before 12 noon).
Gift for mum in a beautiful gift box
Our gift boxes are carefully put together to create a wonderful experience! You will surely find a gift for mum that suits the occasion. The gift boxes contain several things that will please her, whether they are delicious sweets, fragrant skin creams, beautiful flowers or stylish clothes. Our products are perfect for showing your mum how much she means to you. Perfect for birthdays, Mother's Day, or other occasions.
Check out these nice gift boxes!
Normal price

Sale price

529NOK

Unit price

per

Normal price

Sale price

1.299NOK

Unit price

per

Normal price

999NOK

Sale price

799NOK

Unit price

per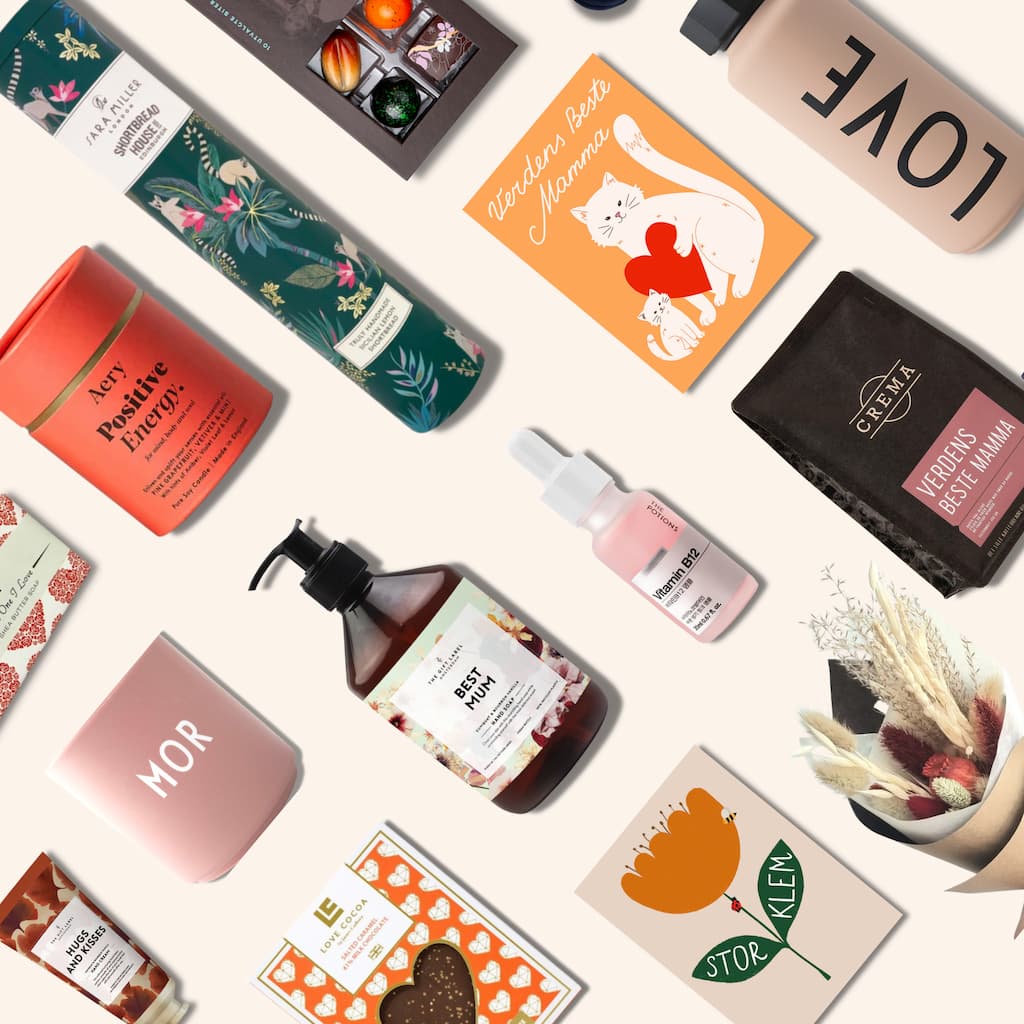 Make your own gift for mum - a tailor-made Kosibox
In addition to our ready-made gift boxes, we also give you the opportunity to tailor your very own gift box for mum. You can choose and combine different gifts based on her preferences and interests.
Start
Step 1: Choose a gift box

Choose a ready-made gift box or build your own.

Step 2: Personal greeting

Customize the gift for the lucky mum. Write a nice greeting about what your mum means to you.

Step 3: Choose shipping

Same day is possible in the Oslo area. Fast delivery also in many other places!

Step 4: Delivered to your door

The gift is delivered directly to mum's door.
More tips on giving a gift to mum
What does mom like?

Does she love gourmet food? Then you can include some delicacies to delight her taste buds. Does she appreciate beauty and wellness products? Then we have several suitable gift ideas that she will like. With Kosibox you get a personal and very special gift for mum, delivered to the door in a nice gift box.
A personal greeting does the trick!

No matter which gifts you choose, there is one thing that will always make mum extra happy - a personal greeting. Writing a warm and loving greeting along with your gift will add the finishing touch. Your kind words are sure to touch her heart and show how much you appreciate her.

Whether it's a special occasion or just a day to show her love, our gift boxes and your personal greeting will create an unforgettable gift for mum. (Pst! If you need help writing a personal greeting, you'll find some tips further down this page! 👌).
Do you have any suggestions for gifts that I can give to mum?

At Kosibox you can find many gift ideas that will please mums on all occasions, including birthdays and Mother's Day. Here you can choose from schocolate gifts, flower and interior gifts, snacks and sweets, gifts in fragrance and well-being, breakfast gifts, gifts with warm greetings, celebratory drinks, gifts for baby and newborn, gourmet food, gifts for leisure and travel, clothing and accessories, gifts for Christmas, and cards. Also check out our gifts on offer.
Gift suggestions

We have a special Kosibox for your mother: KOSI-Mother. This is a gift box for mums that is both beautiful and meaningful. Perfect to be able to delight her every day in the future.

We also have a KOSI bouquet of dried flowers, which you can send in a nice gift box together with something to bite into. Flowers are a classic and timeless gift for mum that is often highly appreciated. It symbolizes love, care and gratitude. Flowers can be a beautiful way to show your mom that you appreciate her.

Another gift idea is a cup with the text "World's best mother". A personalized
cup with such a heartwarming message is a simple yet meaningful gift that can tell her how special she is every time she uses it. These loving words are a great way to show appreciation for good efforts to the family. She will constantly be reminded of how much you value her and how important she is in your life.

Once you have chosen a gift, you can top off the experience with a nice card and a personal greeting from you.
Will mom know my gift is on its way?

Yes. Kosibox makes it easy to send your gift to mum on her doorstep. The recipient is notified of the delivery of the gift via SMS. It is therefore important that you remember to enter the correct telephone number. The delivery is made in different ways, depending on which shipping option you choose.
Are fragrance and well-being gifts a good idea for mum?
Yes, absolutely! Scent and well-being gifts can be a great gift idea. With such a gift for mum, you give her the opportunity to pamper herself a little and take care of herself. Here are some suggestions for fragrance and well-being gifts that will please your mum:
Collapsible contents
Give her a collection of scented oils or scented candles

Delicious smells can contribute to relaxation and well-being. Smell can also bring back old memories, or create new ones. Check out these gift ideas:

Scented candles - Positive Energy
Give mum a nice self-care experience

You can, for example, give her a nice moisturiser, a face mask, a body scrub or a bath oil. Check out these gift ideas:

Body scrub papaya and vanillaBody scrub
Spa treatment

In addition to sending a wellness gift to mom, you can surprise her with a gift card for a spa treatment, massage or other wellness experience. This gives her the opportunity to relax and be pampered by professionals.
Will mom appreciate a handmade gift?

Yes, many mothers appreciate handmade gifts. Even if you have not made the gift yourself, it shows that you have chosen something unique and special with care. Here are some handmade gift ideas your mom might appreciate: 

Handmade olive wood cheese board / serving board
Do you have gourmet food that works as a gift for mum?

Yes, we have. See our gourmet products and KOSI-Gourmet gift box.

Gourmet food is a great gift for mum if she loves food and culinary experiences. It can be a way to spoil her and give her a taste experience out of the ordinary. Of course, we also have snacks and other goodies that will be suitable for the occasion.
Do you have a gift box for vegans?
Can you help me formulate a greeting for my mother?
Here are seven tips for writing a heartfelt greeting with your gift for mum:

Start with a pleasant greeting: You can, for example, use expressions such as: "Dear mum" or "To the world's best mum".

Show gratitude: Tell her how much you appreciate everything she has done for you and how important she is in your life. Feel free to use concrete examples to show that you notice her and value her efforts.

Put love and feelings into words: Describe your feelings for her and how much you love her . For example, you can use words like "love", "care" and "gratitude".

Share special memories: Personalize the greeting by mentioning special memories you have together. For example, there may be moments that have meant a lot to you or that have shaped you as a person. You can also share good memories that you know your mom has experienced.

Add a personal touch: Write in a personal way. You can also include a poem, a quote, or some words that show how close your relationship is and what matters in life.

Wish her well: End the greeting with good wishes for her in one way or another. You can wish her health, happiness, or all the best in life.

The greeting itself may actually be more important to her than your gift. Be honest and authentic in your expressions. Then your greeting will undoubtedly warm your mother's heart. Remember that it is the thought behind the greeting that matters most.
Buy gifts for Mother without a gift box
See our selection of gift boxes for all occasions
Normal price

Sale price

599NOK

Unit price

per

Normal price

Sale price

559NOK

Unit price

per